Improving online flight booking
A prototype for a mobile flight booking app
An international study project for
the University accredited professional diploma in UX Design.
The challenge:
There are a lot of flight booking apps for mobile. Some are pretty good, some are just bad, some are somewhere in between. Explore what's out there and make a prototype of an app that you think has all the potential of

Research
Depth interviews, online survey, competitive benchmarking, affinity diagram, customer journey mapping, usability testing competitors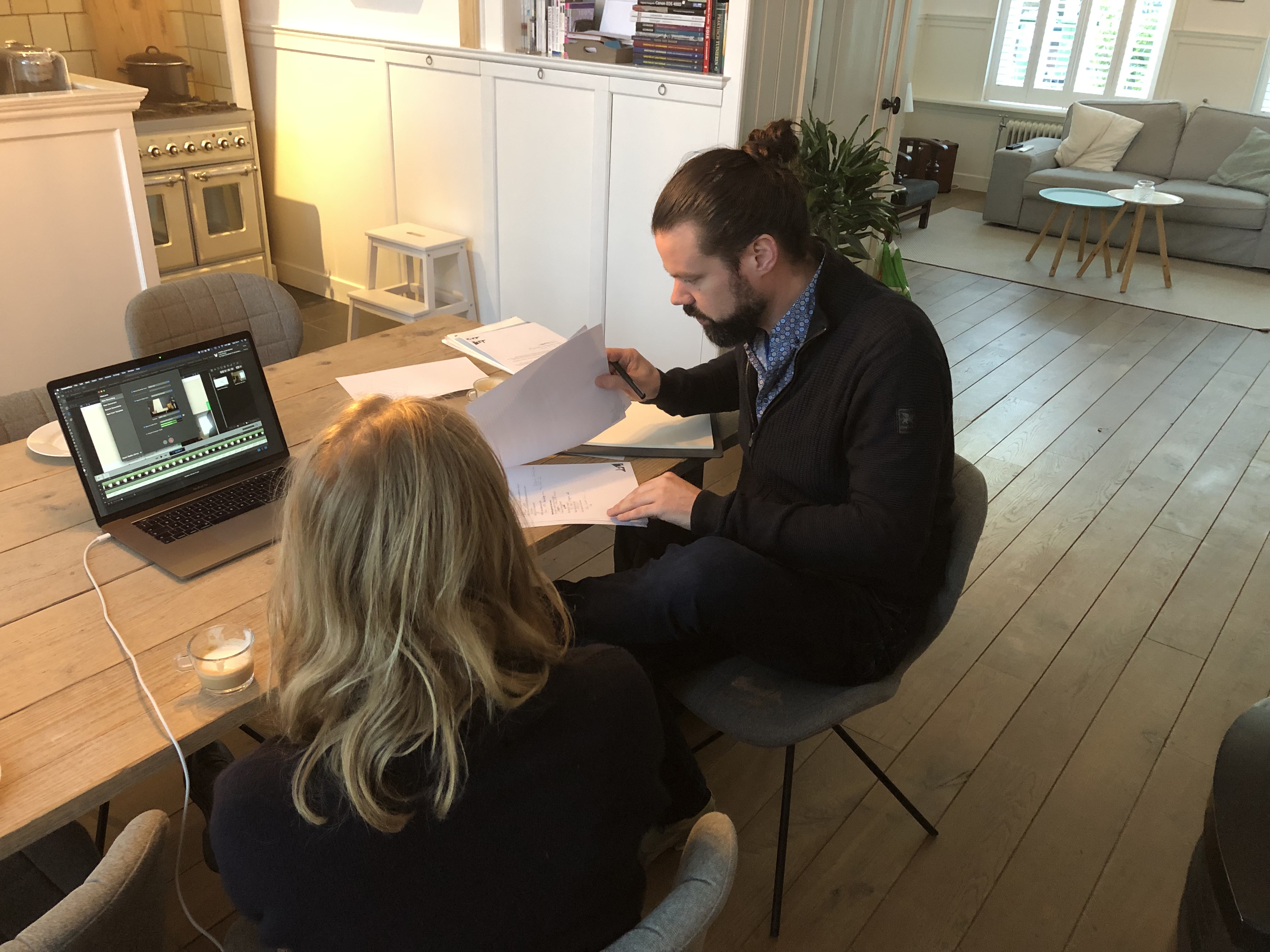 Depth Interviews
I conducted user interviews in order to get a better understanding of behavioural patterns and pain points during the booking process.
And although I learned there is still room for improvement on my interview skills, I am happy with how they went and the data I got from it. Interviews always provide much context information and are rich in detail.

Online Survey
Additionally I conducted a short online survey to gather some statistical data on a larger number of users. I received a total of 50 responses and 44 people even filled out the few open questions.
The main underlying questions I wanted to answer were:
Do people use apps or websites? Or both? When and why?

What are the biggest annoyances during the booking experience?

What do people actually use native apps for from airline companies?
Competitive Benchmarking
The observations during the usability tests were the main source of input for this benchmarking. Looking at other apps with specific questions and goals in mind really helped to discover:
conventions and industry standards to follow

inspirational design solutions

opportunities for improvement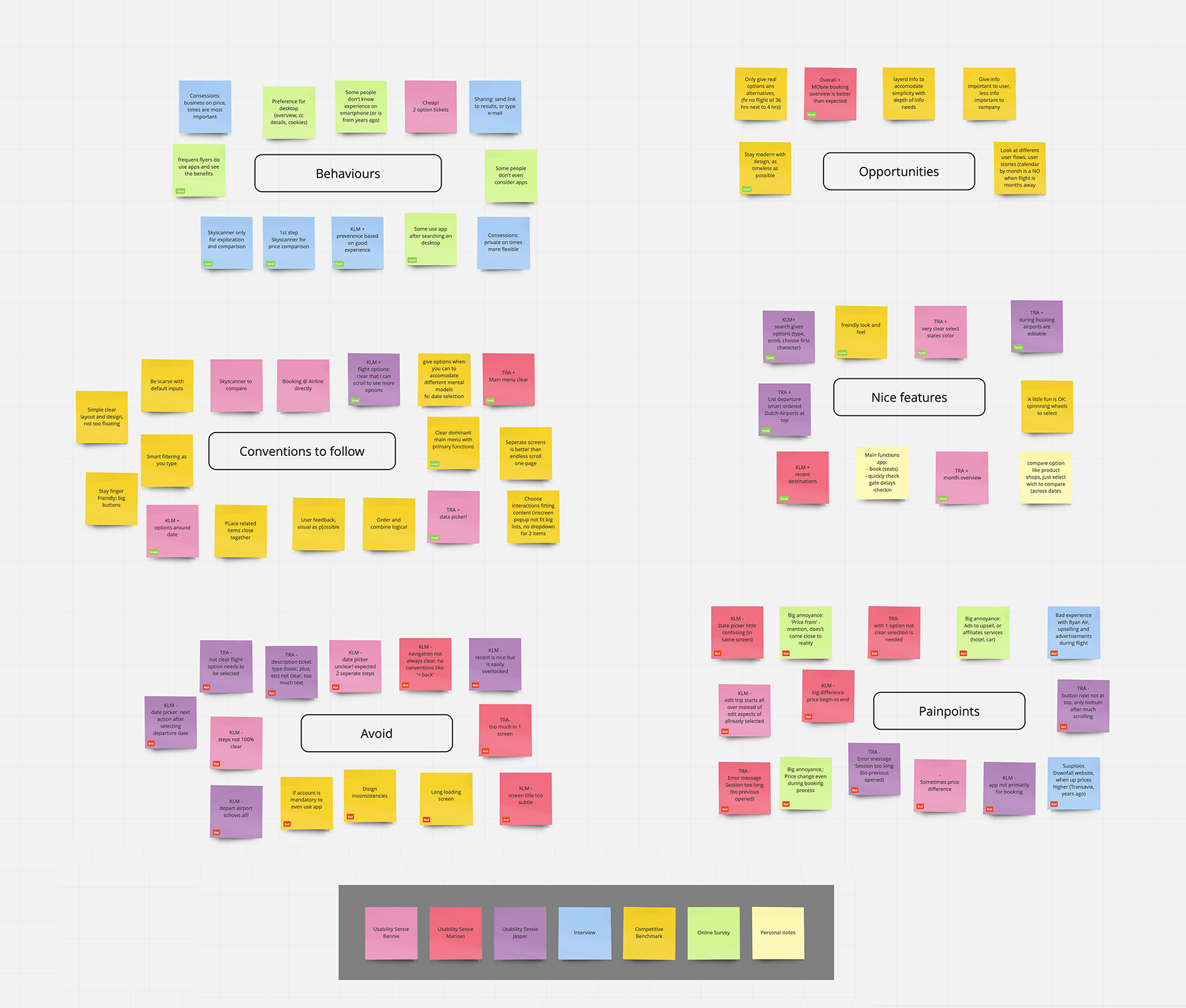 Affinity Diagram
To attain some structure in all the data acquired by the different research techniques this proved to me a very powerful method.
It served me as an anchor: keeping me close to the actual research findings throughout the remainder of the project.
I explored different groupings until this one emerged that I could build my design decisions on.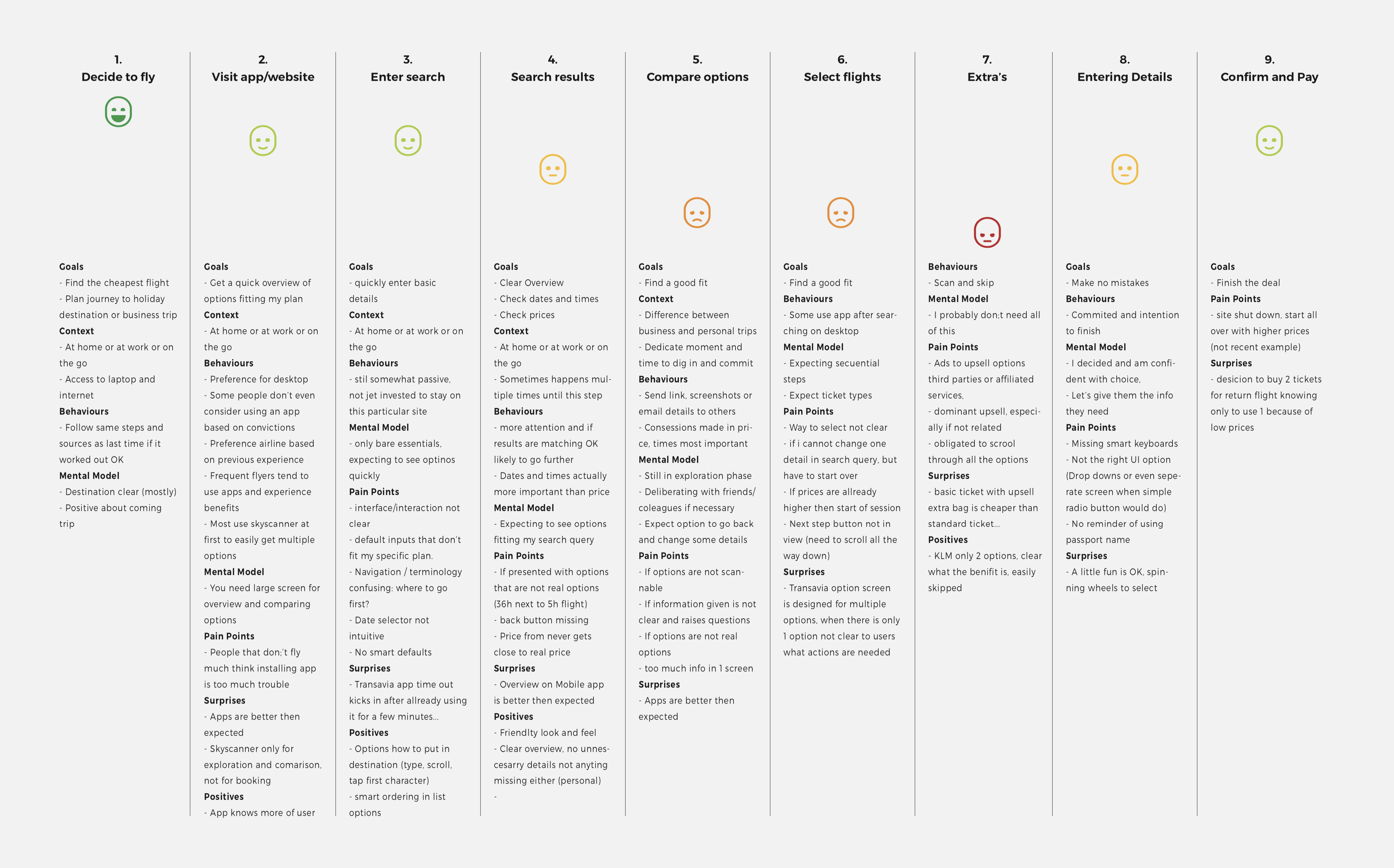 Customer Journey Mapping
For this project I used the journey map mainly to filter the goals, mental models and pain points of the user.
Mapping the data from my research in this manner uncovered a few surprises for me which I also included. This overview also showed where the research data was a bit thin.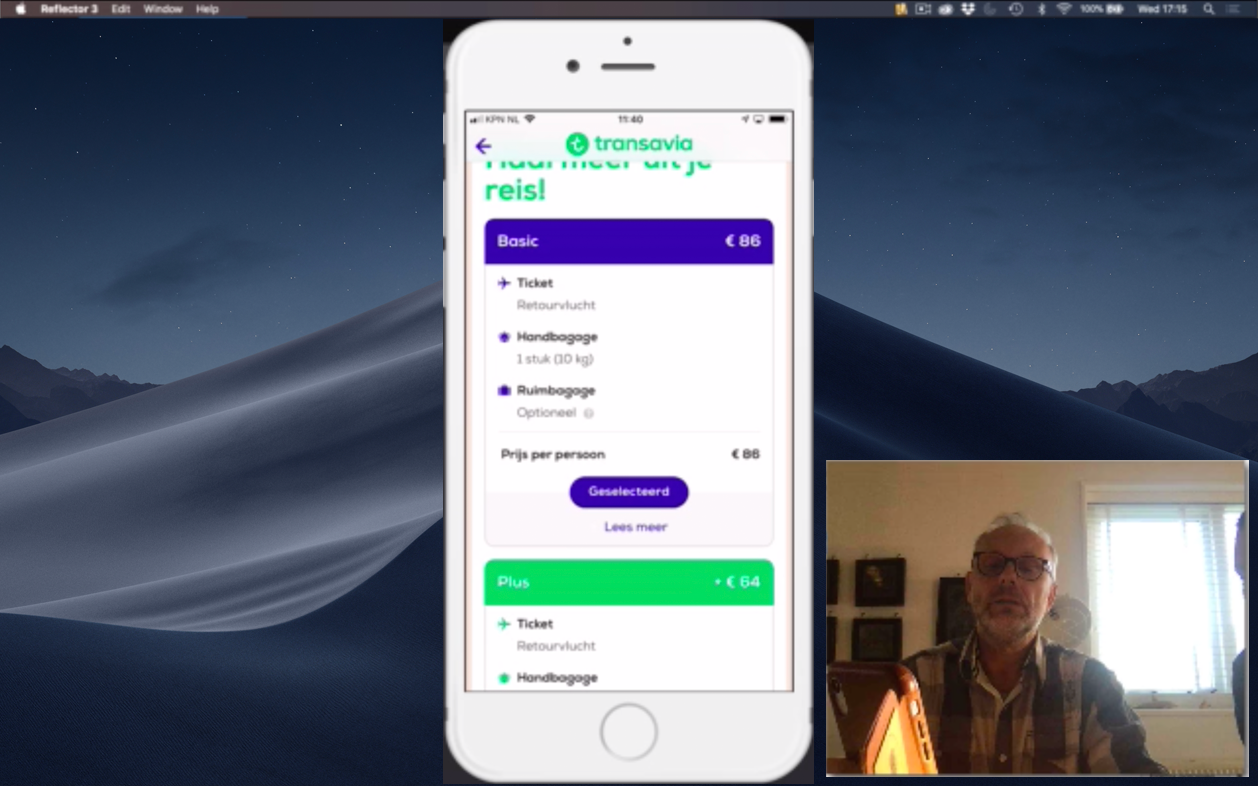 Usability Testing
I performed 3 extensive usability tests with users from different age groups. They tested the apps of two competitors providing valuable feedback on interaction, communication and flow.
Screening and finding participants proved to be a bit more difficult than I thought, so that took some more time than planned.
Interaction Design
Solving the problem. The process of visualising the solution.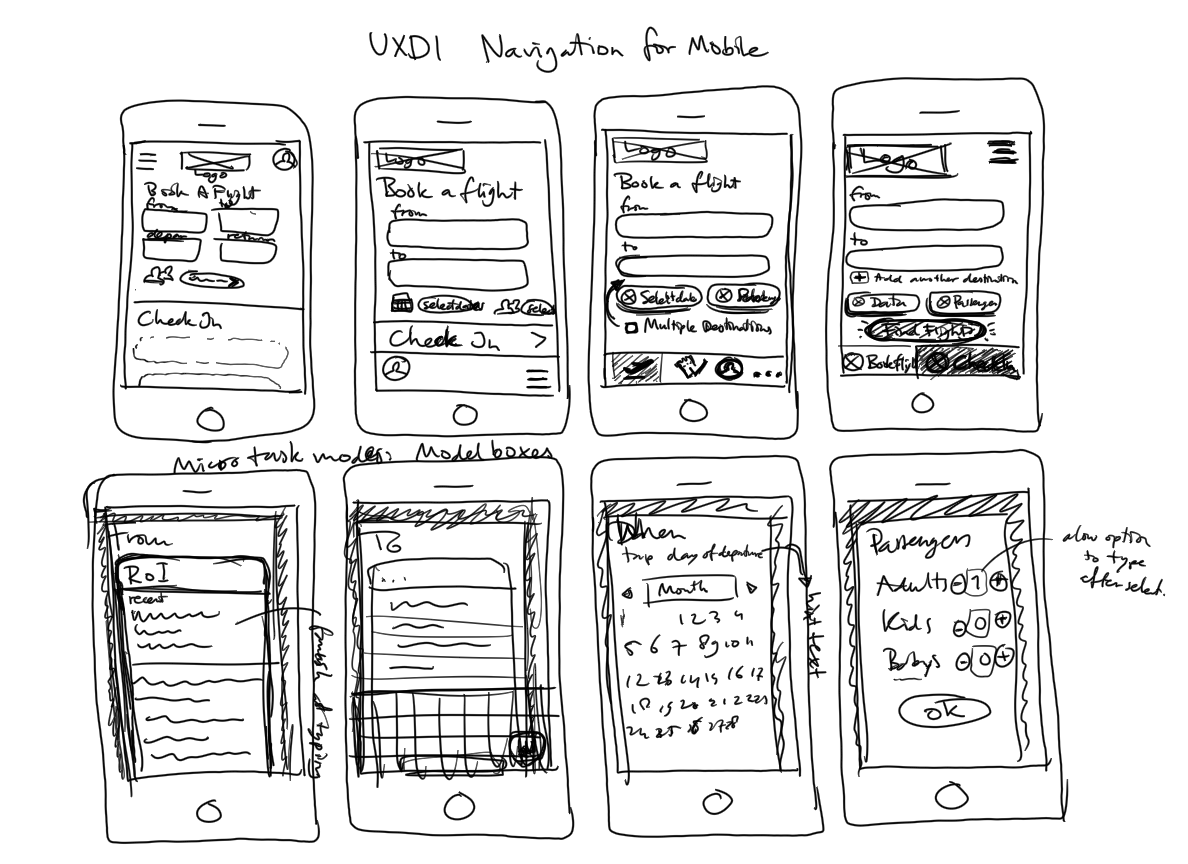 The Design objective
The outcome of all the research can be summed up in the following main objectives for the design phase:
Customers with a preference for desktop are more often than not surprised by the mobile app experience in terms of overview and ease of use.

Customers are very easily triggered (and almost suspicious by default) when they encounter features or options that may not be in their best interest.

When customers use a mobile app they use it for checking in and booking. Not much else.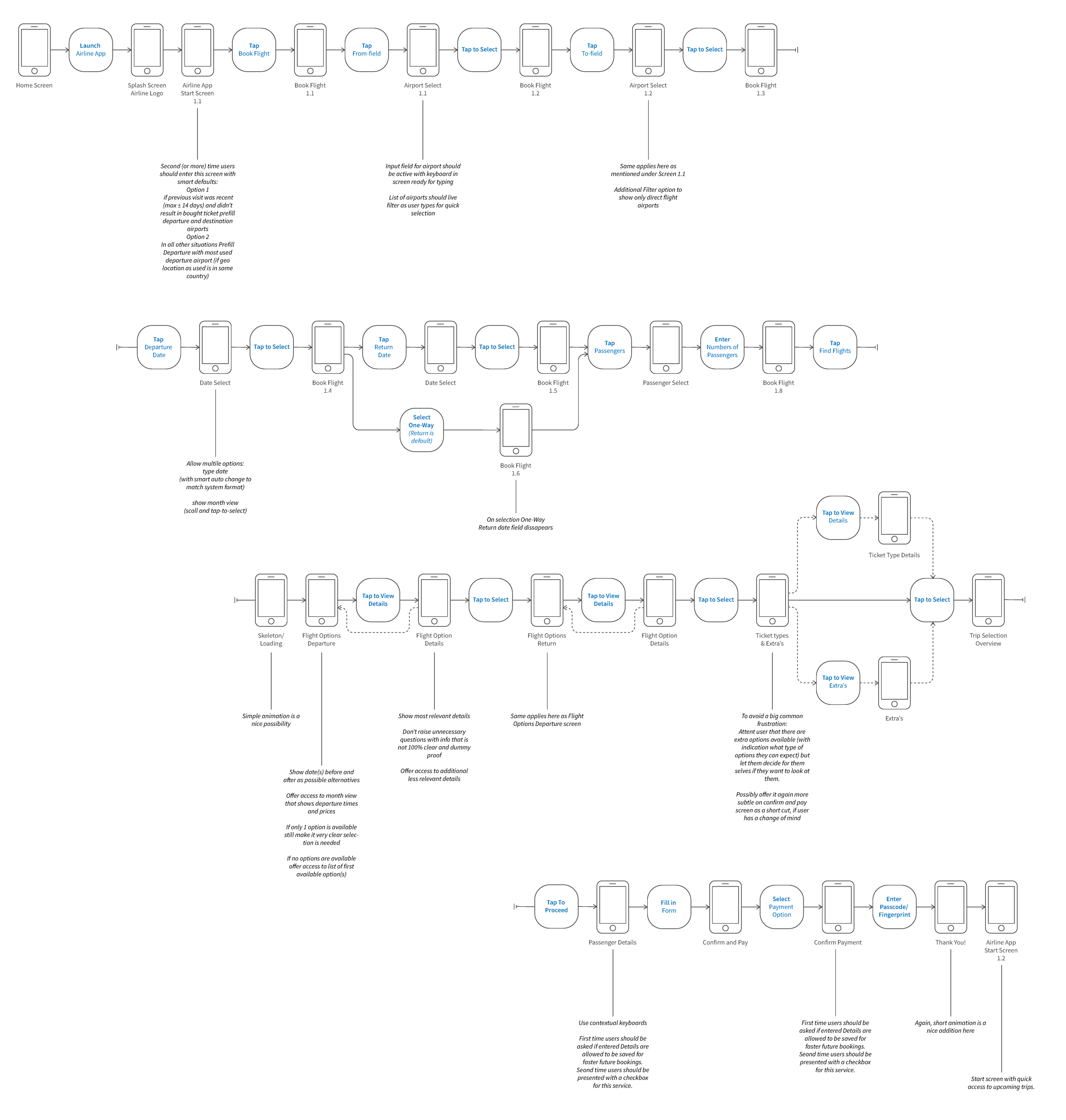 Flow Diagram
This is the primary use case 'Booking a flight' from start to completion. It uncovers what screens and screen states are needed to facilitate the primary flow and how they relate to each other .
The most important ideas for interaction and transition between screens and screen states are also included for later reference.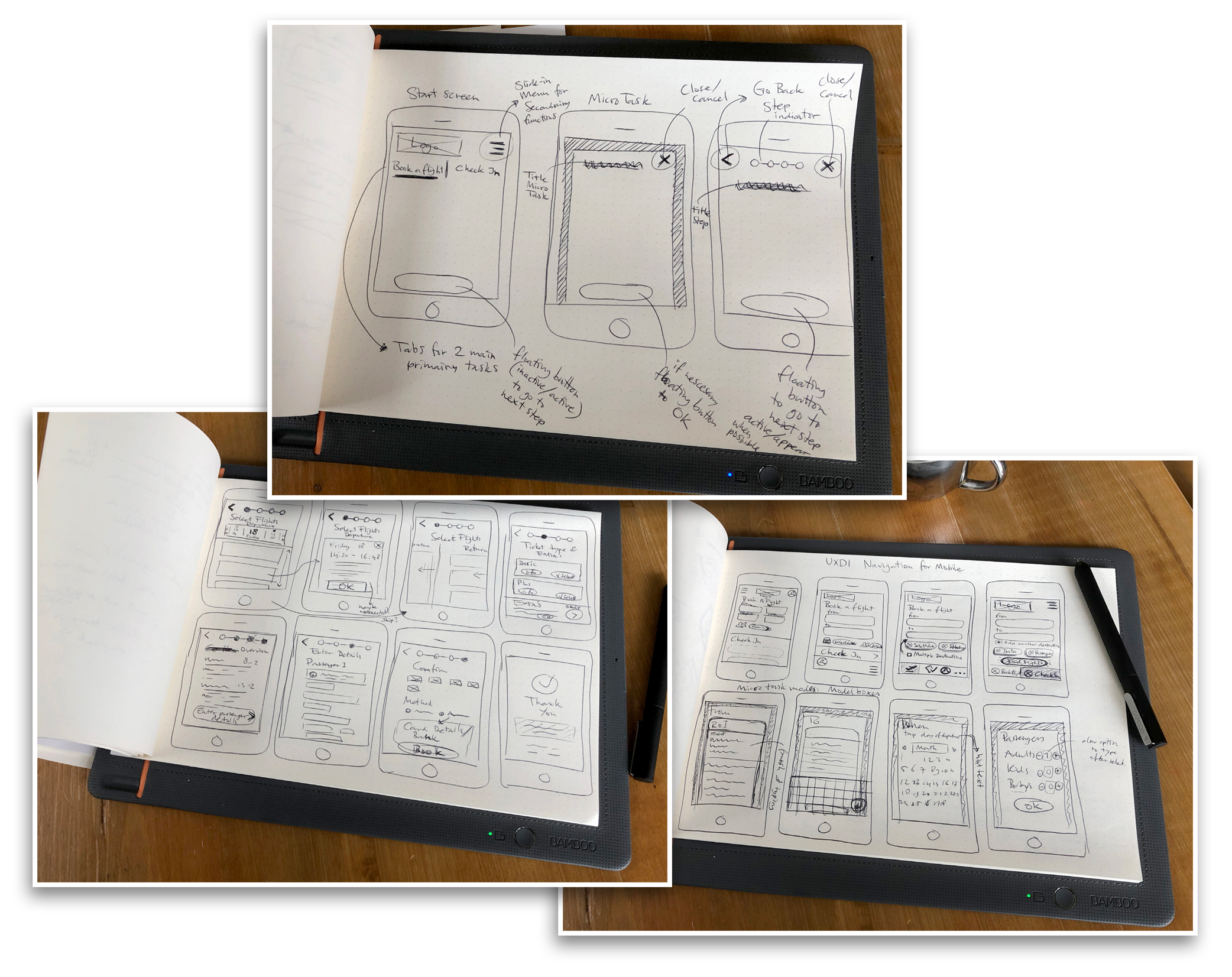 Navigation Structure
The concept for navigation structure was worked out prior to the complete interaction design to form a strong and plain basis.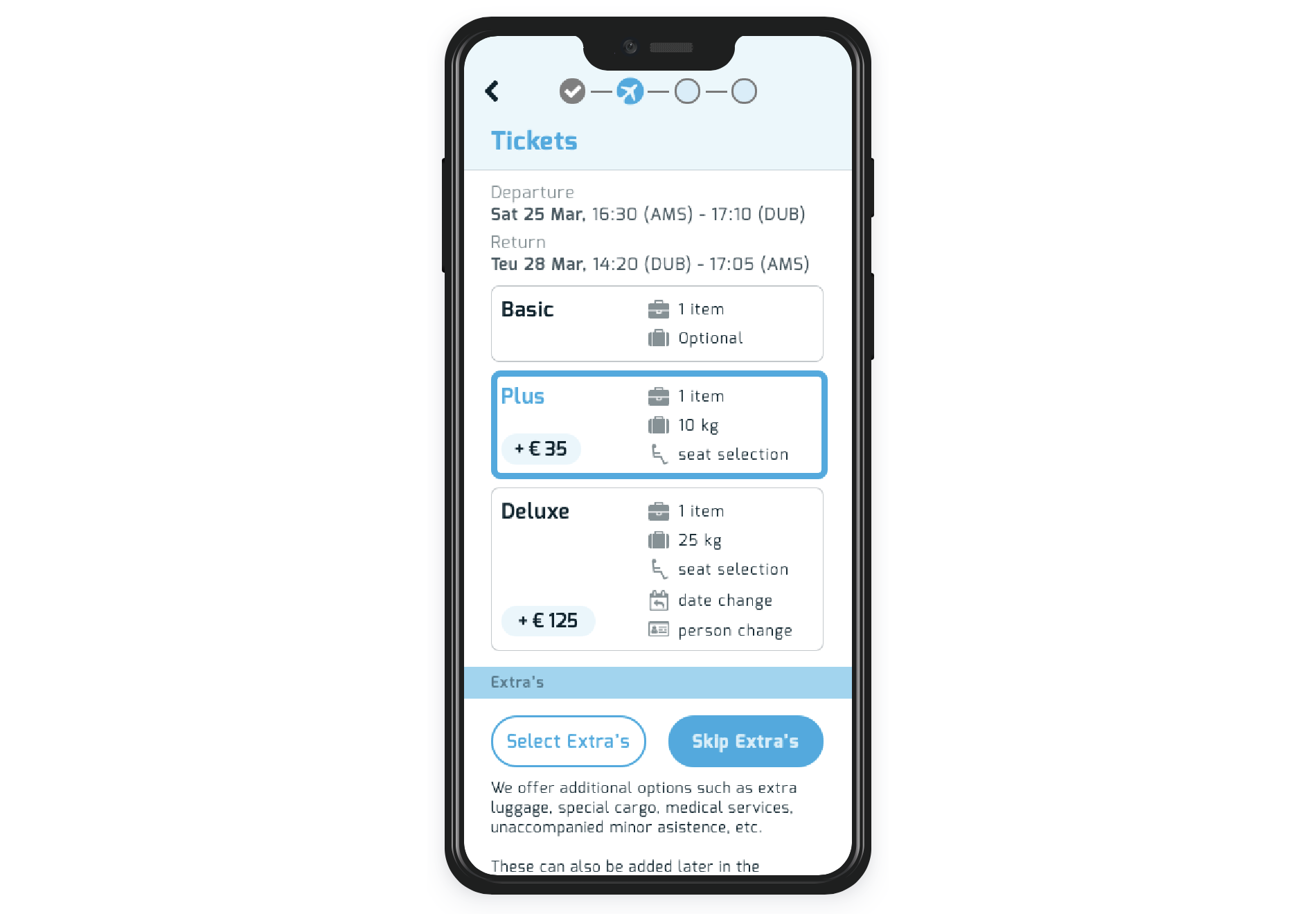 In order to create a high fidelity prototype the UI of the app needed a high end visual design as well.
I love paying attention to details, like using the logo in the step indicator. It's those little things that add some subtle finesse to the whole.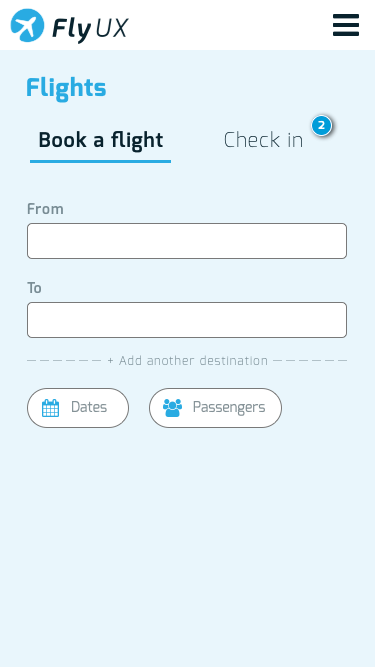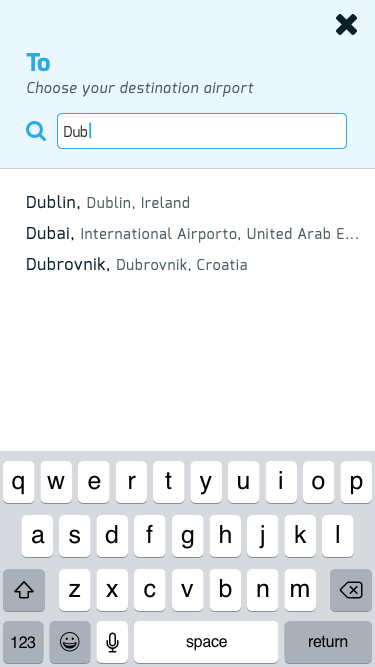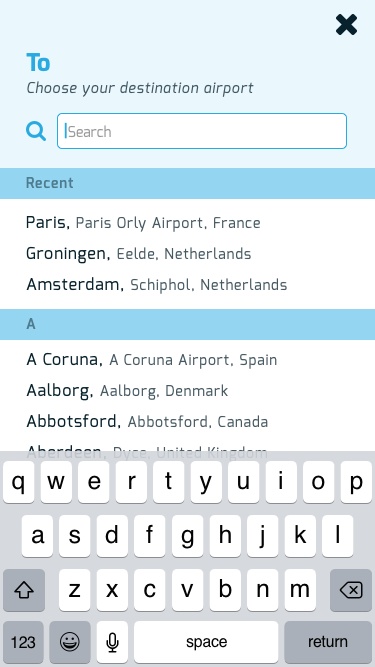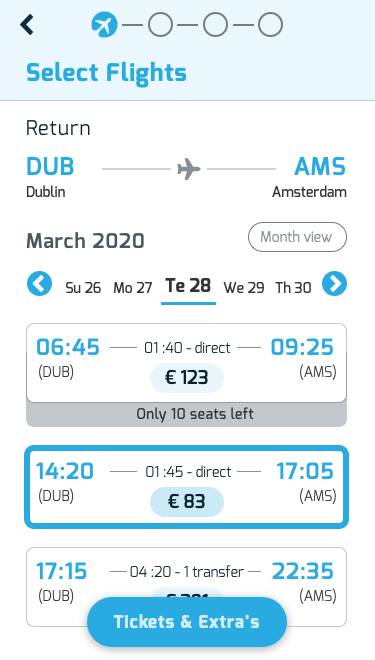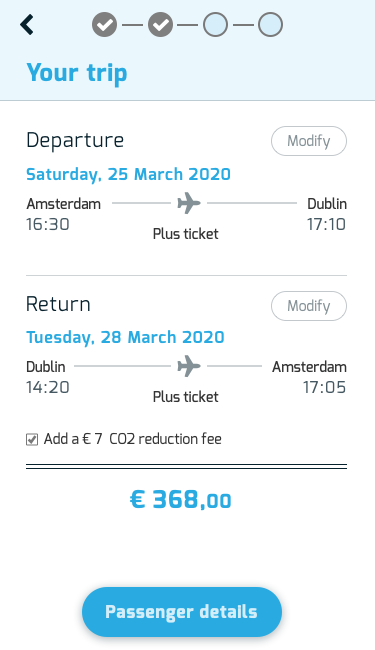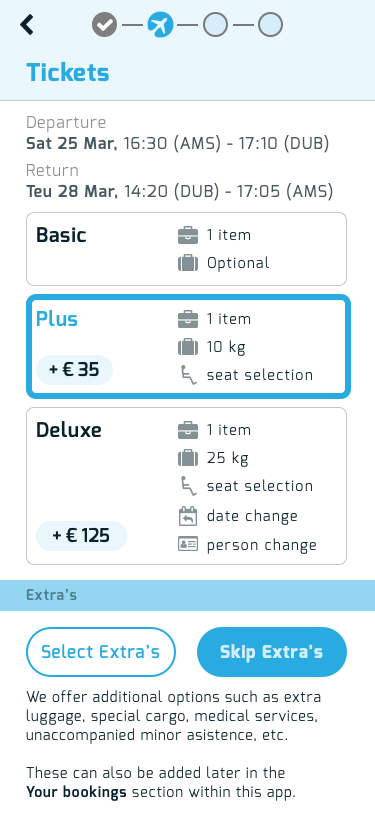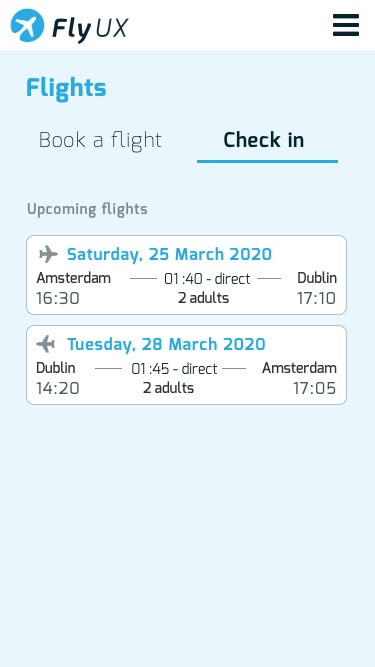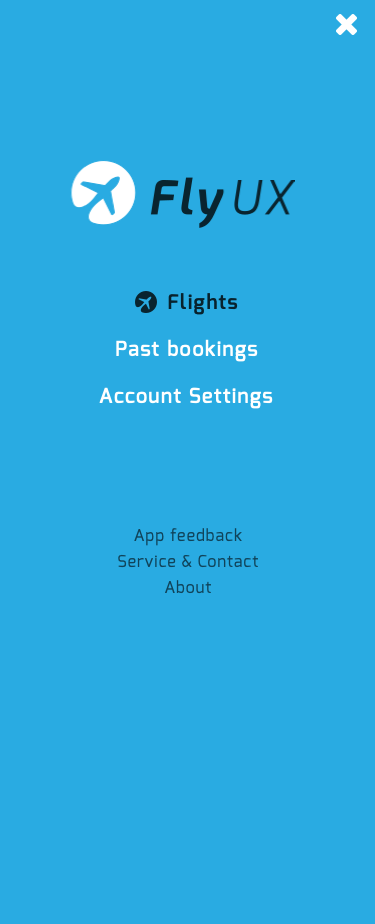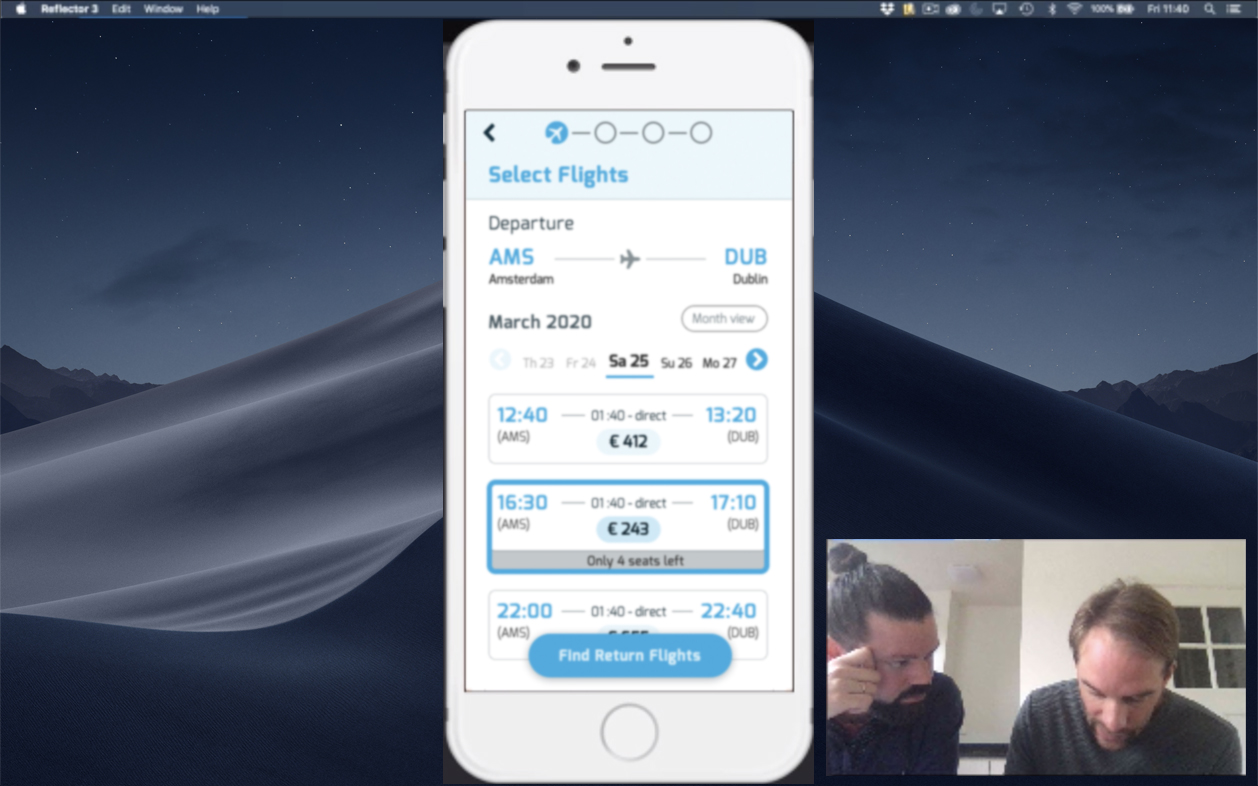 Usability testing the prototype
It's always exiting to put your designs in the hands of others to see if they work and where improvement is needed.
And afterwards prioritising all the feedback. I usually try to divide them into now, soon and maybe later.